23

Nov
Are you planning a wedding for a loved one? Are you short on ideas? If you are looking for ideas to decorate marquees for a wedding, then you must read this article, as it will show you ten ways you can decorate a marquee for a wedding. These decorations can be used both for the wedding ceremony and reception.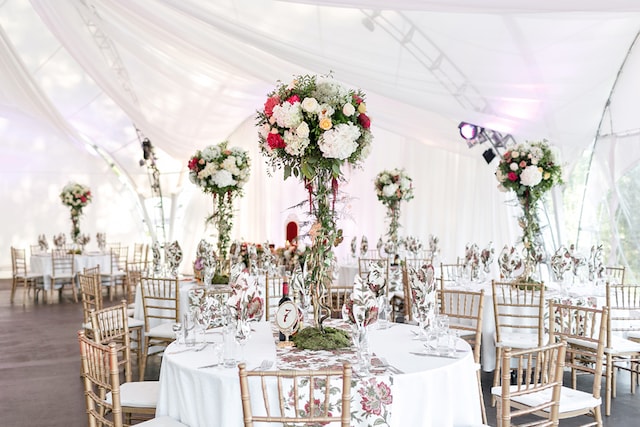 1. Bunting: Bunting is easy to make or buy. They are available in different sizes, lengths, and colours. And we can't deny that a good party always includes bunting.
2. Lining: lining is what you need if you are looking for a one-stop solution for all the décor needs. The best part about lining is that they can be found in a variety of colours, and patterns. Look online, go shopping and buy the one that you like the most.
3. Flowers: Weddings and flowers can never go out of style. In fact, it is still one of the most popular ways to décor marquees for weddings. Ask for suggestions from your local florist. There are many ways through which you can decorate marquees using flowers.
4. Lighting: Lightings create great ambience for wedding marquees. Imagine during the sunny hours; by adding a few glowing chandeliers will make your marquee look stunning and grand. Like to hold your wedding under thousand of stars? And as the sun sets, illuminate the marquee using fairy or festoon lighting and see how gorgeous your marquee will become with the enhancement of various lightings. You can choose to hang them around the perimeter or between the poles, the choice is yours.
5. Use Bold Colors: How about dressing up the tables and chairs that you will be renting for your guests? Be it with flowers, lining or sparkles, these will make a bold statement against plain table cloth and provide all guest with an enhance pleasant dining experience.
6. Couple's Photos: Every photo tells a story. There is no other form of endearment than decorating the venue with photos of the newlyweds. Share
happiness by letting the warmth of the newlyweds' love fill the hearts of their friends and love ones too.
7. Paper Lanterns: Paper lanterns are simple, yet they look beautiful when used as a decoration for the wedding marquees. The best part is, paper lanterns come in different colours and sizes. For a stunning décor effect, hang them at different heights and create amazing visual depth on your big day.
8. Pom Poms: This is usually a more cost-effective option as you can DIY or purchase pre-made tissue pom pom from both online and physical stores. You can make pom poms using tissues, colourful magazines, fabric or paper – any size, any colour.
9. Twinkling Trees: If you want to build a serene atmosphere for your marquee, then look out for the sparkling trees as they are the best in an enchanting atmosphere. Talk to the suppliers and ask them more about the twinkling trees.
10. Balloons: Did you know these days balloons are used for weddings as well? These days, you can find balloons of different types; confetti, helium balloons, balloon arches and so much more. Balloons can create a fairytale look, and it will definitely give your wedding reception a fabulous look.