07

Mar
When organising an outdoor event using aluminium structures, it's always essential that every aspect goes smoothly, be it the logistics, catering, and most importantly, safety procedures. It's imperative that safety standards are not compromised because in doing so, it may endanger the guests attending, cause expensive damage, expose the organiser to an imminent lawsuit, and simply ruin the entire event altogether.
To avoid these problems, we've compiled a list of safety checks that you should adhere to so no one's safety will be compromised.
Ensure That Tents Are Secured
This is a fundamental safety precaution that applies to all tent structures. Ensure that the pegs of the tent are firmly anchored into the ground and that it cannot be removed without using the right tools. Secured pegs will maintain the tension of the tent frame so it doesn't fold in or collapse.
For large-scale tents that are built on softer ground, there should be counterweights present on every upright support. This is to prevent the tent frame from shifting positions due to strong winds or sinking unevenly into granular or delicate ground. This safety check is vital to the stability of the tent and to keep it grounded during inclement weather.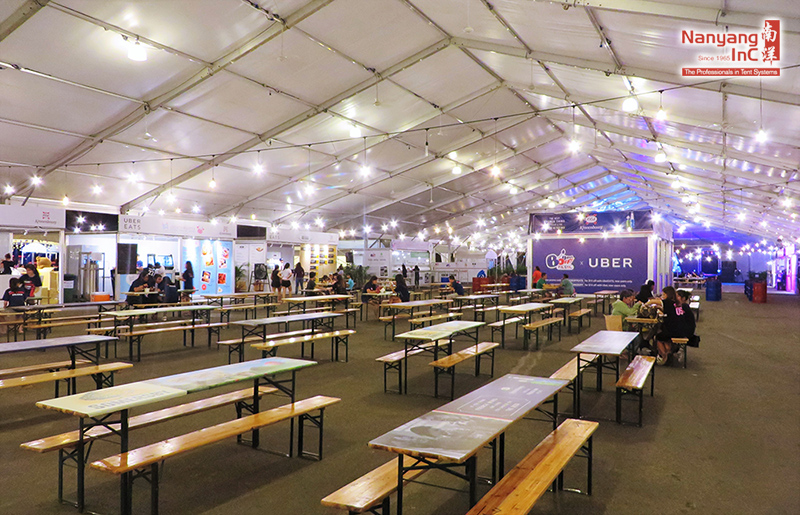 Managing Electrical Usage
Many electrical items can be commonly found within a tentage – items such as lighting, fans, and air-conditioning. To ensure that electrical usage is well-managed, it is essential to have a proper single line drawing that is calculated by the Licensed Electrical Worker (LEW). Other electrical safety tips to take note when managing and handling electrical components include:
Providing appropriate insulation protection
Ensure all electrical installations are in good condition and not damaged
Ensure that industrial plugs are used instead of household plugs
Ensure that tapped electricity is safely syphoned
Lightning Protection
Aside from providing shelter during bad weather, outdoor tentages have to be protected against lightning too. In case of bad weather, it becomes even more imperative to have lightning protection to keep people and equipments safe. To achieve this, proper grounding and earthing works have to be done to insulate the tent from being a lightning conductor.
This step is essential to ensure that no structural damage or injury will happen, and secondary effects such as surges in the electrical systems can be prevented as well.
Proper Calculation of Load & Occupancy
All kinds of tents, be it an initimate gathering under a Mongolia tent or a grand outdoor wedding marquee, has a maximum load and occupancy limit. Managing and calculating this aspect is vital to ensure that there is sufficient free movement within and around the tent.
In additional, every confined space has a minimum number of entrance and exit points, in order to facilitate crowd flow in times of emergency. Considerations such as weight load, wind load, and structural calculations should also be taken into account, for the tent may experience adverse consequences if these calculations are not observed.
Suitable Profile Size
While the tent profile size is often determined by the product engineer, you should discuss and find out the most suitable for size for your event. By highlighting the necessary concerns and requirements, the project manager is able to explain the pros and cons of varying profile sizes accordingly.