27

Feb
Many events in Singapore are held outdoors using tents that can hold many people and for various functions. Certainly, the functionality and efficiency of these tents have allowed for numerous events to be held beyond the conventional setting of a multi-purpose hall, allowing greater flexibility and creativity for the locations of the events.
In the article below, we'll share a few interesting and unique locations for your tent setups, and some considerations you need to take into account when choosing them.
1. Above a Swimming Pool
Swimming pools, especially private pools, are great locations for poolside events and pool parties. Setting up a tent on top of a pool allows you to make it into the centrepiece of your event without much effort, and it can be an excellent choice for many kinds of events, be it casual or classy, big or small. There is even an option to glamorise the flooring with a transparent centre aisle, delighting guests with a pleasant surprise as they walk into the tent.
A consideration that you need to take note of when setting up a tent above a pool is the depth of the pool. With the need to level the tentage with the ground, it is important for the pool to have consistent depth throughout. Pools that are about 1.5 meters deep will make a good setting as well. Depending on the venue condition, the shape of the pool can also determine the type of tent you could have, for example, a rounder pool can have both a rectangular or octagon tent.
2. Open Rooftops
Open rooftops are a popular choice for many fancy affairs such as wine and cheese tastings, gatherings and outdoor weddings. The appeal of having a tent on an open rooftop is being able to indulge in the generous sunlight and breezes, giving events a fresh and airy atmosphere. With the alternative to chill the tent with aircon, guests don't have to compromise on comfort while enjoying the stunning views.
Some considerations that you need to take note of when setting up a tent on an open rooftop is the point of access: you need enough space to facilitate the movement of logistics. It is always better to be safe than sorry – ensure that you measure the dimension of the elevators and staircase, factoring the access and cost of craning logistics if needed, and planning ahead to prevent weight load issues.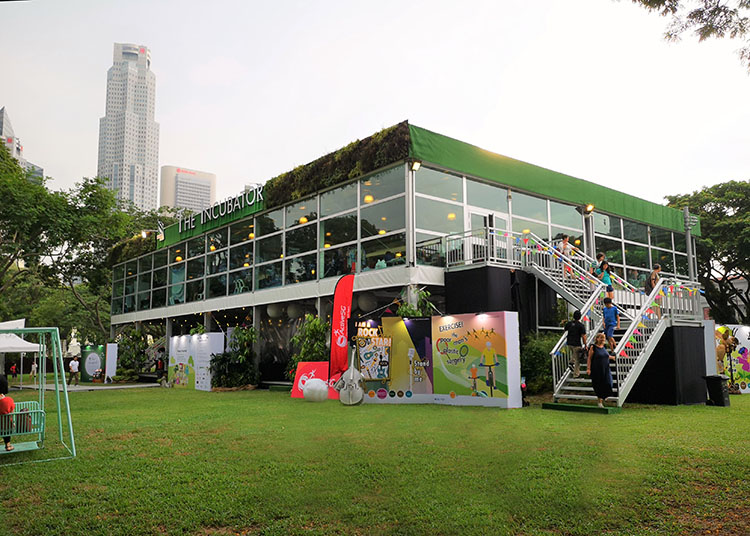 3. Open Lawns
Open lawns are a common location choice for many event organisers, as they provide generous space to hold one or multiple tents that can be used for all types of events in Singapore such as sports, weddings, and lifestyle events. One of the most flexible and customisable locations allowing many types of tents, holding an event at an open lawn will definitely allow you to flex your creativity.
There are crucial factors you need to take note of when setting up a tent on an open lawn location. Firstly, the quality of the ground must be ascertained, so find out if it's hard, soft, uneven, or has slopes. Next, ensure that planking works are done so as to protect the turf and provide an even layer. Finally, cable detection is vital to locate and avoid damaging underground piping and cables. Specific loading and unloading areas should also be assigned to avoid unnecessary damages to the venue's property or logistics.
4. Inside a Permanent Structure
Many events are also held within a permanent structure or buildings, and to give it a touch of functionality and glamour, tentages are used. The spaces within a structure can be a multi-purpose hall, within a commercial or private property, or even an abandoned warehouse. Some examples of the events that use tent rentals include pop up stores, festive gatherings, and weddings.
The highest point of a single storey tentage can go as high as 14.9 meters. Hence, the main considerations to note when setting tents up within a permanent structure are the height restriction: ensure that there is sufficient vertical space for hoisting and accommodation of the tent. Additionally, for tents that are set up in permanent structures that are located near to other buildings, it's essential to maintain a minimum distance of three meters for safety reasons.
5. Beaches or Sandy Areas
The sun, sand, and sea are truly inviting for many chic and exquisite events. Many people have rented tents to host beach parties, lovely weddings, sand sculpture events and even sporting races. While it's a fantastic location that can enhance the appeal of many types of events, there are also different challenges that organisers should take note of when deciding on a beach location.
One of the main challenges is to preventing the tent from sinking into the sand. Some vital considerations will include using counterweights to increase stability of the tent, placing steel plates or protrack to create a platform for vehicle access to transport materials, and creating ground evenness, so the tent facilities and structure lies on a balanced and levelled ground.