01

May
We never fail to be impressed by the beauty of engineered technology tents that every outdoor events bring; we always marvel at the sturdyness and versatility they have to host all the different kinds of events, facilities, and technology in them. Indeed, outdoor tentage setups are exceptional and provide plenty of options beyond the conventional indoors rented venue.
More than often, we forget about the unsung heroes behind these glamorous built; they are the ones who ensured that our events run smoothly without any hiccups – the operations team. They are responsible for a myriad of duties that involve pre-setup preparation, building, touching up, maintaining, tearing down, and even backend paperwork. In the article below, we'll take a look at the many good qualities of Nanyang Inc's men in green, the operations team who worked hand in hand, to set good examples on daily workplace safety.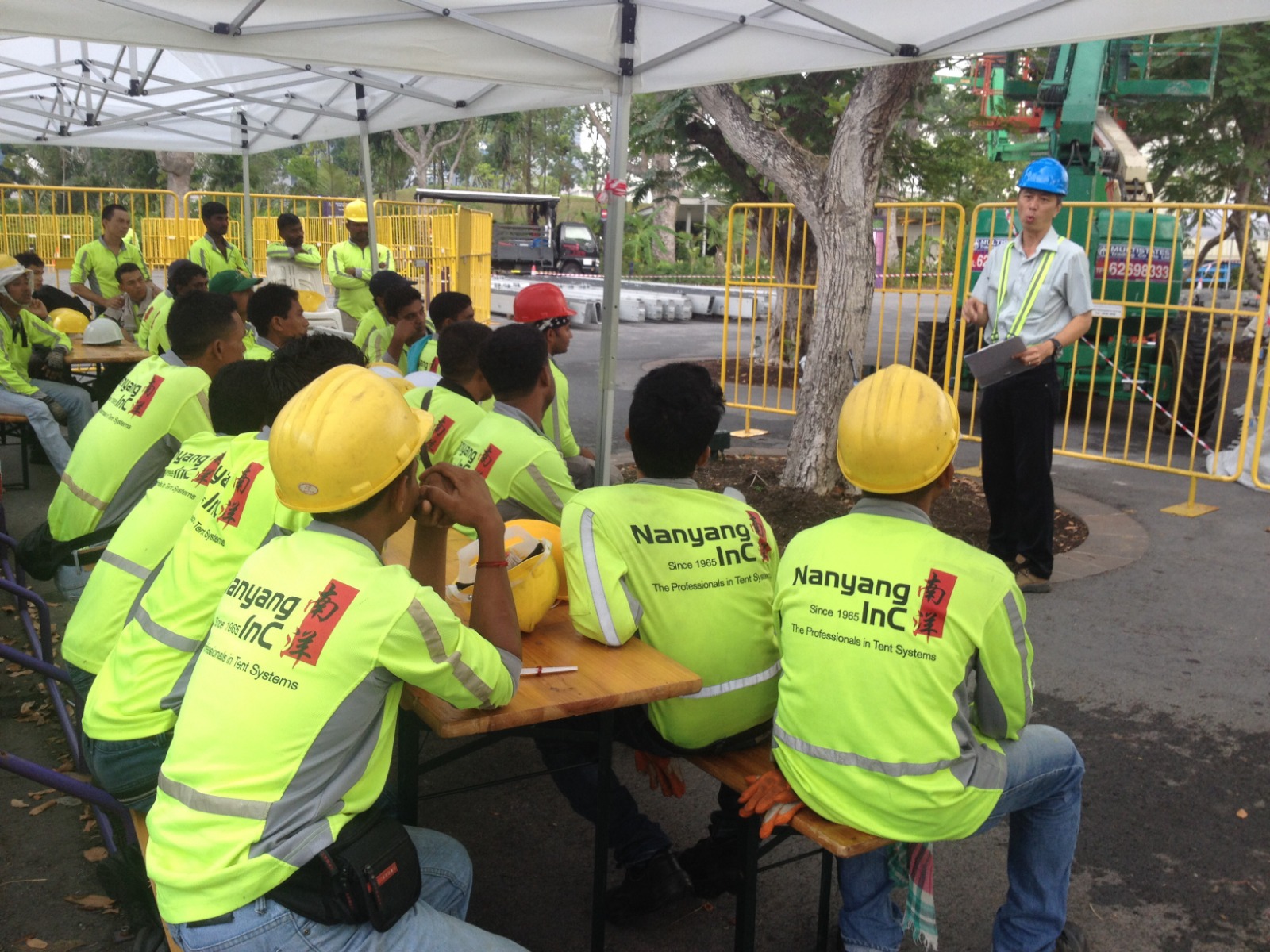 Constant Improvement
In today's operation‐driven industry, our people remains as the most valuable resources our company possess. Being in an industry that relies heavily on machinery and working at height, each member of the operations team has to undergo upgrading courses regularly, so that they are aware and informed about the possible hazardous scenarios that might occur and ways to avoid them while working.
Safety is the last thing that clients need to worry, as each team is certified with various basic and supervisory work safety knowledge such as Work At Height, Metal Scaffold Erection, Lifting. In addition, having certifications for the operation of forklifts, boom lifts, and welding equipment also allows the team to perform their duties efficiently and safely.
Adaptable to new technologies
One of the key aspects that the operations team has is the ability to adapt to new technologies and machinery. Poor work safety practices can lead to unforeseen and lethal accidents, causing harm to oneself, fellow colleagues or the public in any phase of the setup.
While they can build conventional steel tents effectively, they are also keen to take their competency to a next level and be equipped with skills to build aluminium engineered tents and using automated canvas installations – with the intention for higher efficiency and a safer work environment for everyone in mind.
Good communication effort
Often being labelled as "the banglas" by the general public, the operations team is actually a diverse group of people who originate from many different countries. Despite this differences, they made an effort to ensure that all messages are effectively communicated to align both productivity and safety aspects at work. Great examples can be seen from the initiative to pick up local languages such as Mandarin, Hokkien, or Teo Chew, just so they can communicate and connect better on site with the client.
Owing to the broad experiences and innovative mindset of the operations supervisors, they are able to provide viable suggestions to enhance the overall aesthetics of built, improve working procedures and safety standards, or even recommendation to the clients according to their specific requirements as well.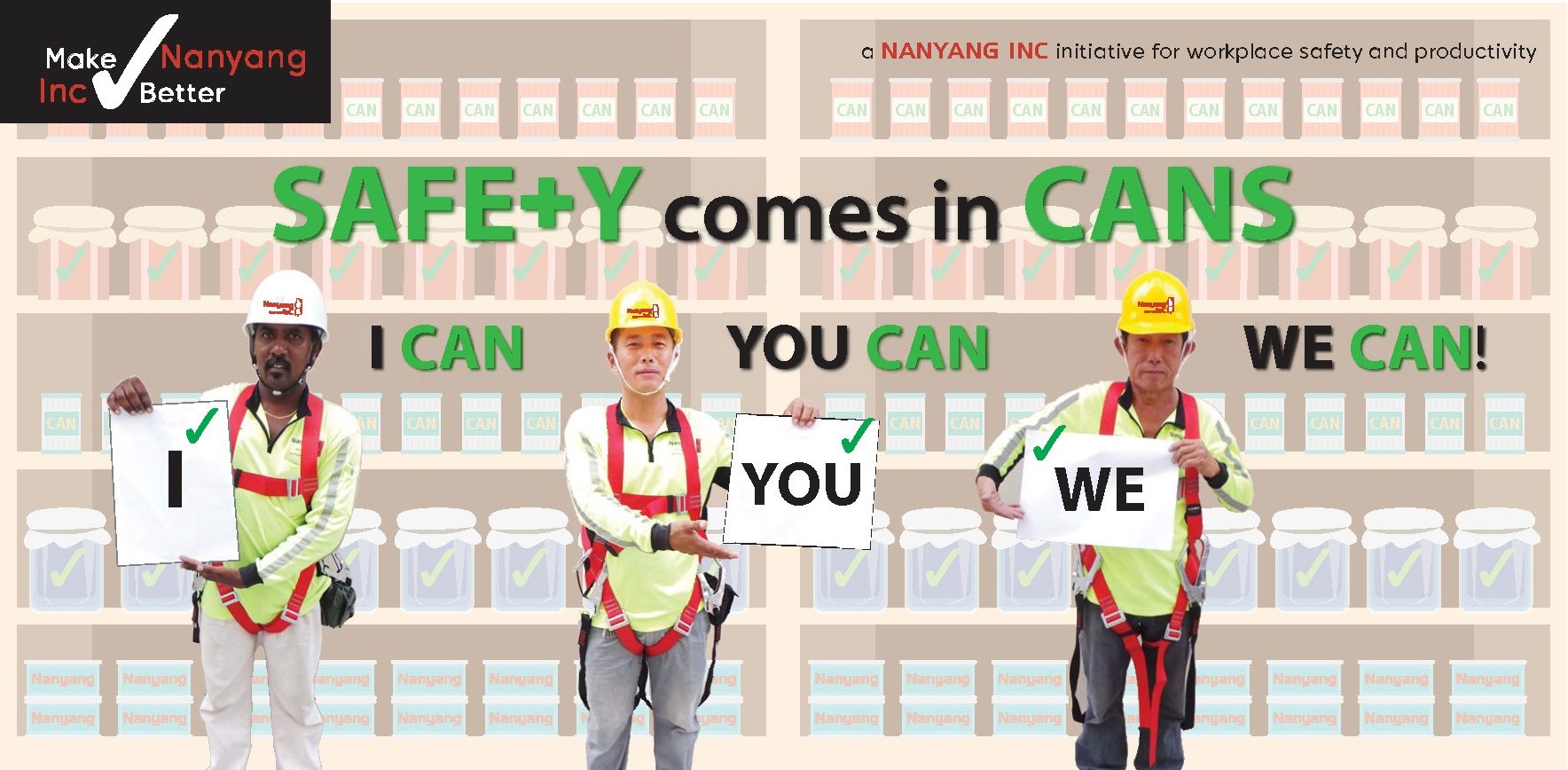 Positive attitude 
Manual work and heavy lifting is inevitable in the Tentage and Event Logistics Rental trade, and the hours can be long. For events like the General Elections Rallies and State Funerals, where the team has to be activated within a short time frame, it can be physically and mentally draining. Nonetheless, these hardworking people worked tirelessly, under the hot sun, through the late nights, without complaints. It is also with such great sense of responsibility, that we can entrust them to see through an entire setup until it completes.
United as a team 
Nanyang's operations team is a family. This brotherhood unites them both personally and professionally, having each other's backs and keeping one another safe. In this outdoor event solutions business, it is also mandatory for the operations team to adhere to every safety regulation and standards during setups, especially for clients like Shell, Formula 1, and ST Marine, where safety is regarded as the utmost priority. Duties such as understanding the correct use of Personal Protective Equipment (PPE), and attending toolbox meeting are part of their responsibilities in the Operations department. Staying bonded as a team is necessary for them to achieve their tasks well and stay mindful of each other's well-being.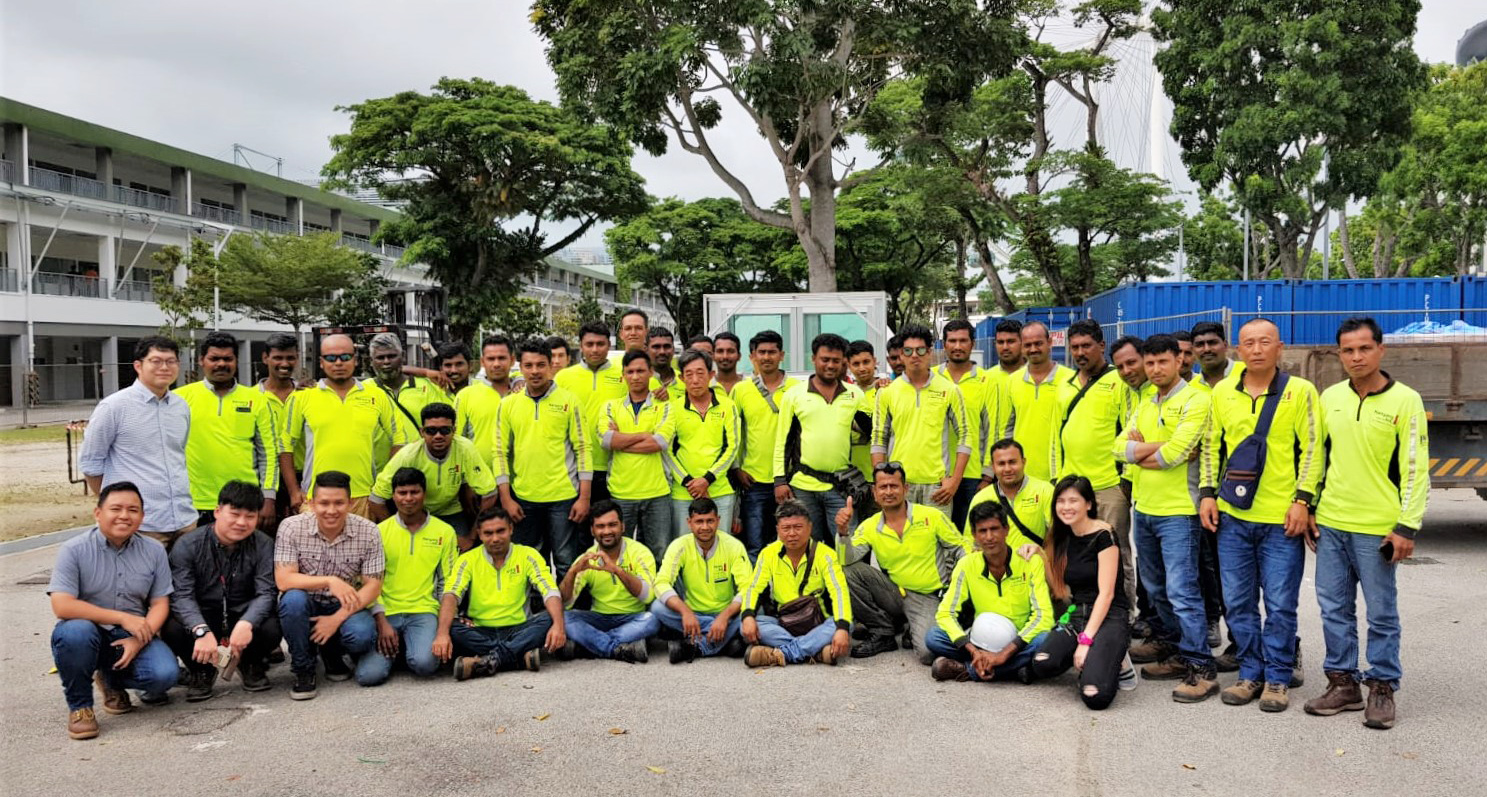 Deserving of respect 
Every operations member plays a significant role in Nanyang Inc, and their invaluable skills and experiences contribute to successful events and keeping work environment safe for everyone. Because of these, they deserve to be appreciated and respected as valued members of the community like everyone else – and acknowledging their heart work is definitely the least that we can do for them.
Happy Labour Day!