26

Oct
Are you planning to throw the wedding of a lifetime in the great outdoors instead of going for something conventional at your wedding? You would definitely like to make a difference that will well be exceptionally outstanding. So, what is the best way to achieve that? The answer is – the outdoor wedding tent rental companies.
However, before you opt for such a company, it's essential for you to consider a few things.
Defy Murphy's Law
It's always crucial to keep the worst case scenario in mind when planning for any significant event. This is especially true when you are planning to throw an outdoor wedding reception, you need to be sure that the plan you have opted for is not only on par with its indoor alternative but something that will overwhelm it in every aspect. The focal point in your outdoor plan is going to be the tent that you hire from the outdoor wedding tent rental company. The tent has to be an absolute beauty with a perfect contingency for bad weather. The weather in Singapore can be unpredictable, after all.
Hence, make sure you have a a tent backup plan in place when you select the best wedding tent service provider. If that's not defying Murphy's Law, then what is?
The Amount of Tents You Need
Well – this is something that will decide how big the tent will be. This will depend upon the number of invitees and the activities that you are planning to hold under the tent's roof. If it's just for the wedding reception, then the sitting arrangement of the guests and placement of logistics will be the deciding factor. If you have decided to go for a banquet or want to hold the entire wedding under one tent, then you again have to rethink about the space and request for the tent accordingly from the outdoor wedding tent rental company.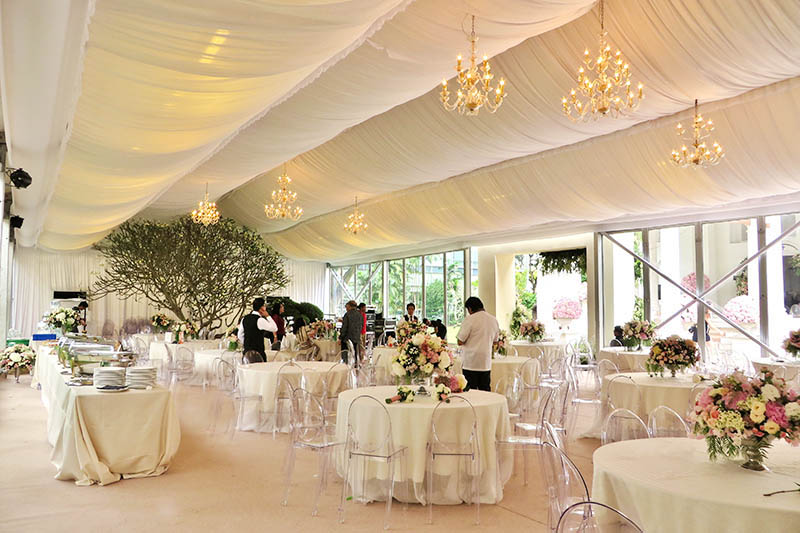 Calculating the Size
Calculating the tent size may seem like a challenging task, but an experienced tent rental company will be able to guide you with it. It's not wise to guess the size by simple estimates; you will need to consider certain factors to get an accurate measurement.
– The number of guest
– The solemnisation area
– The position of buffet lines or live stations (if any)
– The sitting arrangements
– Any Floral décor or props
– The position of AV control and live music band (if any) – all these factors will come into play.
The Add-on Features
There are certain optional add-ons which the couple can consider. If you are more inclined into flowers, then you may add bouquet of fresh roses or floral arch to add that extra vibe into the entire event. An extra bit of innovation in the form of decorative liners and some gorgeous lighting will bring up the mood. Discuss your plans with the outdoor wedding tent rental company that you can trust.