06

May
Every moment counts when pandemic strikes, be it in the form of natural phenomena or a disease outbreak. As a business owner, having an emergency response plan in place will allow your company to be able to react and mobilize quickly for all manner of situations. In Singapore in particular, enterprises are encouraged to implement business continuity plans to minimize disruptions to business operations during such instances. At the same time, however, it is vital to make the safety of employees a priority even as you take the essential steps to ensure that business remains viable in any scenario.
Aluminium technology marquees tend to be a familiar sight for Singaporeans. Versatile and available in a variety of shapes and sizes, they are widely used for outdoor events like roadshows and carnivals. Rapid Build Structures (RBS), similarly, have industrial uses which include either short or long-term interim on-site storage, warehousing or operational space. Yet, surprisingly few people know about deploying these temporary structures for the purpose of emergencies and disaster relief. If you haven't already been thinking of utilising Rapid Build Structures (RBS), here's why it's about time you do so.
Speedy assembly
It's literally in the name—Rapid Build Structures (RBS)! Thanks to the rapid build system, the structure can be assembled and set up by personnel readily when needed. Moreover, since the structure can be put together at such short notice, it is undeniably a suitable option for entities that urgently require a temporary space solution. This can be especially critical in the event of an emergency, where so many lives are likely to be at stake that every second matters. The quick and easy-to-pitch nature of the rapid build structures is also what makes it ideally suited for disaster relief operations, warehouse storage and temporary dormitory solutions.
Providing temporary solution
Given that any disaster or emergency is unlikely to continue for the long-term, rapid build system is an affordable choice that can be installed on a temporary basis. The decision of where the installation will take place is left entirely up to you too—whether you prefer having it located on company premises for the sake of convenience or elsewhere if distancing is preferred. These versatile structures are also clearly a hassle-free and less costly alternative to renting an indoor space nearby the office, offering a high degree of flexibility location-wise. Once the crisis has abated and met its end, the temporary structure that's no longer necessary can be then disassembled and taken apart.
Creating additional space
Rapid Build Structures (RBS) are also an extremely convenient fix for organisations and communities that simply don't have extra room for an enclosed screening or holding area. A functional alternative space, outdoor structures can serve as either waiting rooms or potential testing facilities that will prove useful for dealing with potentially contagious patients or suspected cases. With proper planning and efficient space allocation, this method provides an effective opportunity for individuals to undergo health or temperature checks while limiting unnecessary exposure to other staff members and visitors.
In addition to supplementing for lack of space and keeping affected individuals separate from the rest, having the area be situated outdoors comes with a much lower degree of risk. This is because any medical screening will be carried out outside of company premises, allowing for those displaying symptoms of illness or warning signs of infection to be denied entry or turned away. Ultimately, doing so will help reduce the likelihood of a spread occurring throughout the workplace.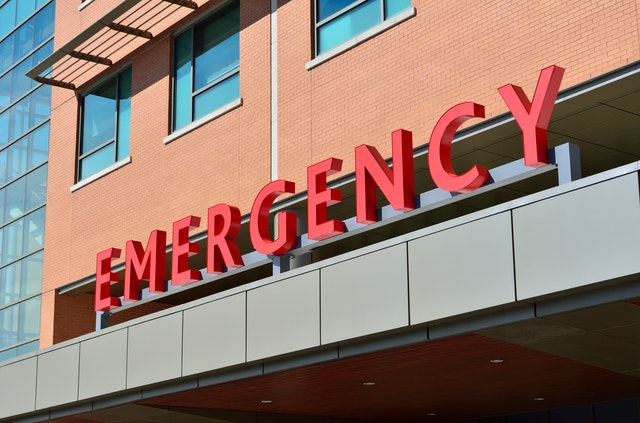 Disaster relief use
These Rapid Build Structures (RBS) are also often deployed in local or overseas humanitarian operations for the purpose of disaster relief or medical rescue. The temporary structures are able to act as outdoor medical facilities where medical aid is provided to victims of a disastrous incident or alternatively, be used to store relief materials and food items. Especially in the case of environmental disasters like floods, fires, and earthquakes, the structures can function as a comfortable temporary emergency shelter to accommodate victims still reeling from the shock of the incident or even as a medical treatment space where emergency doctors can tend to the injured.
Technical aspects 
Just like with all clear span configurations, the medical screening structure has no poles, pillars or obstructions in the interior taking up space too. Designed specifically with easy set-up and portability in mind, clear span structure can be pitched in nearly any location. Each set is three metres in width, length as well as height, and includes sidewalls on all four sides with counterweights for an enclosed space that is safe and maintains privacy. The walls enclosing the space can be freely opened or raised in the event of bad weather. Each set of rapid build system also come with lights and fans installed so those held up in the area can remain comfortable and well-ventilated as they wait for either medical treatment or screening. Due to the material used, these structures are sturdy, waterproof and heat-resistant—making them usable rain or shine, in every season and climate!
The aftermath of any disaster can be devastating, taking a toll on both the economy and business. In light of the recent COVID-19 pandemic, employers have been advised to put in place measures to reduce close contact whether through staggering work hours or allowing employees to work from home. If you're a business owner in need of an enclosed medical screening area to conduct temperature or health checks, look no further than the Rapid Build Structure (RBS)!